What a Naturopathic Doctor's Family Eats in One Week
Posted by doctoracorinna on Oct 21, 2013 in Frugal Living, Recipes | Comments Off

on What a Naturopathic Doctor's Family Eats in One Week
Have you seen those photo journalist pictures of what different families around the world eat in one week's time? I am fascinated by them, myself. So I revisit the idea every few years or so. This is what my family of three (me, my husband and my young daughter) will eat in one week's time:
From left to right:
jar with white top: one quart homemade chicken broth; two cans tuna (canned in non-BPA lined cans)*; 6 pastured chicken eggs, 1/3 pound organic free trade coffee*; organic chicken thighs*; 1/3 pound Kerrygold grass fed butter*; 1/2 pound pastured beef liver; organic hummus*; 1 pound grass fed beef stew meat; 1 pound grass fed ground beef*; 1 gallon raw grass fed milk; one wild pink salmon (I will write a post about how to cook that, it's amazing!); 1 quart homemade organic tomato sauce; 1 quart homemade organic canned tomatoes; organic wild and spicy salad; 1 pound organic frozen peas*; organic carrots/cabbage/onion/beets for fermented veggies; organic spaghetti squash; organic sugar pie pumpkin; organic raisins*; organic fair trade quinoa*; more organic carrots and potatoes for beef stew; organic red kale; organic Brussels sprouts; organic onions; organic Pink Lady apples. We will also be eating another half dozen eggs; 1/2 pound of grass fed cheese*; some almond flour* (we are going to use it to make pumpkin pie from a real pumpkin); maple syrup*; homemade grape kombucha; herbal tea*; more apples and possibly another kind of fruit*. Some of our lunches will be provided (at a weekly meeting for me or at daycare for my daughter) and my husband will be eating lots of nuts*, organic fruit*, chocolate milk* and more coffee* at his work. *=not local, everything else is
Our proposed meal plan:
Breakfasts: quinoa with milk/butter/maple syrup/raisins OR eggs with frozen peas and other vegetables
Lunches: leftovers from the night before OR tuna/veggies/fruit/cheese
Dinners: salmon and veggies; crock pot beef stew; liver loaf (made with 1/2 pound ground liver and 1 pound ground beef) and veggies; chicken and spaghetti squash with sauce and veggies
Desserts: we don't usually have dessert, but we will probably have pumpkin pie a few nights this week
Snacks: hummus and carrots OR apples (or possibly another fruit) and cheese
Drink: water, milk, herbal tea, homemade grape kombucha, coffee (this is all my husband, I don't actually like coffee)
Total cost: about $160
And here is a photo of when we did this last time (about 3 years ago). It was an interesting experience because we found we didn't really eat all the food that we thought we would, so we probably ate 75% of the food pictured (and my husband had a bunch of extra coffee.) It is also interesting to see how our eating has changed: we pretty much don't eat grains anymore.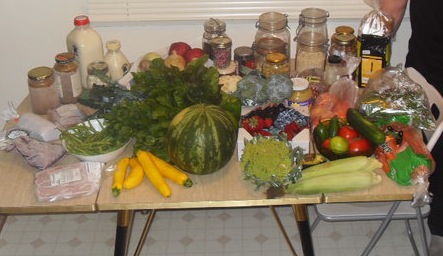 Veggies and fruit: squash, kale, chard, green beans, carrots, onions, potatoes, salad, garlic, cilantro, tomatoes, cucumber, corn, bell and Jalapeño peppers, celery, cauliflower, broccoli, nectarines, avocado*, applesauce*, strawberries, blackberries, blueberries, watermelon, raisins*, lemon*. Protein: eggs, milk, cream, cheese*, almonds*, sunflower seeds*, sesame seeds*, lentils*, red beans, salmon, lamb, beef. Grains: multi grain bread, quinoa*, oats*, wheat flour. Other: chocolate*. *=not local, everything else is! Everything is organic. Total cost: $150